Categories
Categories
Brands
Brands
CROWN & CRICKET INN 57509 DICKENS' SIGNATURE SERIES DEPT 56
CROWN & CRICKET INN 57509 DICKENS' SIGNATURE SERIES DEPT 56
Product Description
DEPARTMENT 56 - RETIRED DICKENS VILLAGE

DICKENS' SIGNATURE SERIES
CROWN & CRICKET INN #56.57509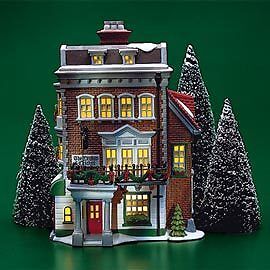 Size: 6" x 4.5" x 8.5''
Introduced December 1991 - Retired 1992
Limited To Year 1992 Production
This is the 1st Edition in the Charles Dickens Signature Series.
This three-story brick and stone building with pillars flanking the covered formal entry,

has a curved canopy roof on the Golden Pub. A wrought iron balustrade outlines the triple windows on the second floor.

A Mansard roof with decorative trim and molding completes the look.

Building, light bulb and li
ght cord are brand new,

Trees and other items are not included.
Customer Service Number 843-819-0585

International Buyers - Please contact me for rate quotes

Product Reviews
Find Similar Products by Category
Customers also viewed